Plumbing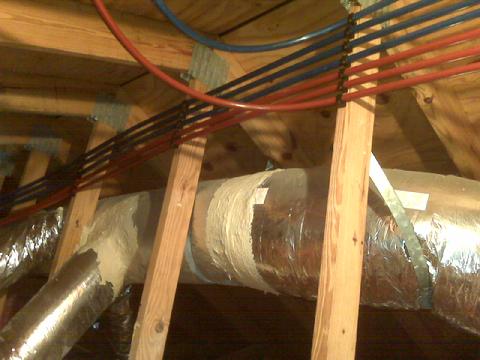 Our experienced plumbers complete their work right the first time, and have fully equipped plumbing trucks that carry only the very best state of the art plumbing equipment and plumbing products. So, there is no need to worry about shoddy workmanship that offers only a temporary fix for your plumbing. Quality is the backbone of this plumbing company that makes our work an incredible value. Don't take our word for it. We are A+ rated plumbers with the Better Business Bureau, members of the Chamber of Commerce, and most importantly, we put all of our plumbing work up on the internet for the world to see. Go to our YouTube page and see for yourself. The plumbing in your home is important so make sure you hire the very best plumbers. Our services include, but are not limited to, many variations of plumbing services. At Swift Plumbers, we have the plumbing equipment to clear any plumbing drain. In our drain cleaning service we use ridged snaking equipment to clear plumbing drains as well as high pressure jetting equipment and sewer jetters to clear your toughest plumbing clog. We also carry video inspection equipment on every plumbing truck so we can see the inside of your plumbing pipes, thus taking the guess work out of plumbing drain problems.
Swift Plumbers can locate the smallest hidden plumbing leak with state of the art electronic plumbing leak detection equipment. Our plumbing leak detection expert service will accurately pinpoint your plumbing leak. One thing to consider if you have a plumbing leak in copper plumbing pipe, galvanized plumbing pipe, cast plumbing pipe, polyurethane plumbing pipe, or any other inferior plumbing pipes, it is always recommended to have your plumbing repiped. Swift Plumbers repipe service is well known and highly recommended because we have the best repipe plumbers that will repipe your plumbing and provide you with the best value.
If you live in Southwest Florida, call Swift Plumbers at 941-474-2222 for any of your pluming wants and needs such as disposals, faucets, pipe repairs, water heaters, toilets, repipes, leak detection, jetting, drain cleaning, urinals, video inspection, and many other residential and commercial plumbing jobs.
Dripping? Leaking? FLOWING? Call now… We're on it! We'll fix it… and fix it SWIFT.
We understand – leaks can be pretty scary. That's because unlike some other plumbing issues, with a leak, every second counts.
If something is leaking in your house, don't wait. Call Swift Plumbers at 1-800-616-5325. Unless you have a great deal of experience, don't try to fix it yourself. The wrong twist or turn can transform a slow drip into Niagara Falls. Got a leak? Call day or night for Swift Plumbers expert, experienced plumbing professionals.
Swift Plumbers can fix water leaks, slab leaks, dripping faucets, showers, tubs, pipe leaks, and have the best plumbers and the best equipment to get the job done right. That's why we guarantee quality plumbing solutions.
We promise to take your situation very seriously. No scheduling games. Fully equipped plumbing trucks. We'll show up on time with everything we need to stop your leak and have you breathing easy again.