Click and Print the coupon below (it will opened on a new window).
Then fill out the form below with your information to complete the coupon activation.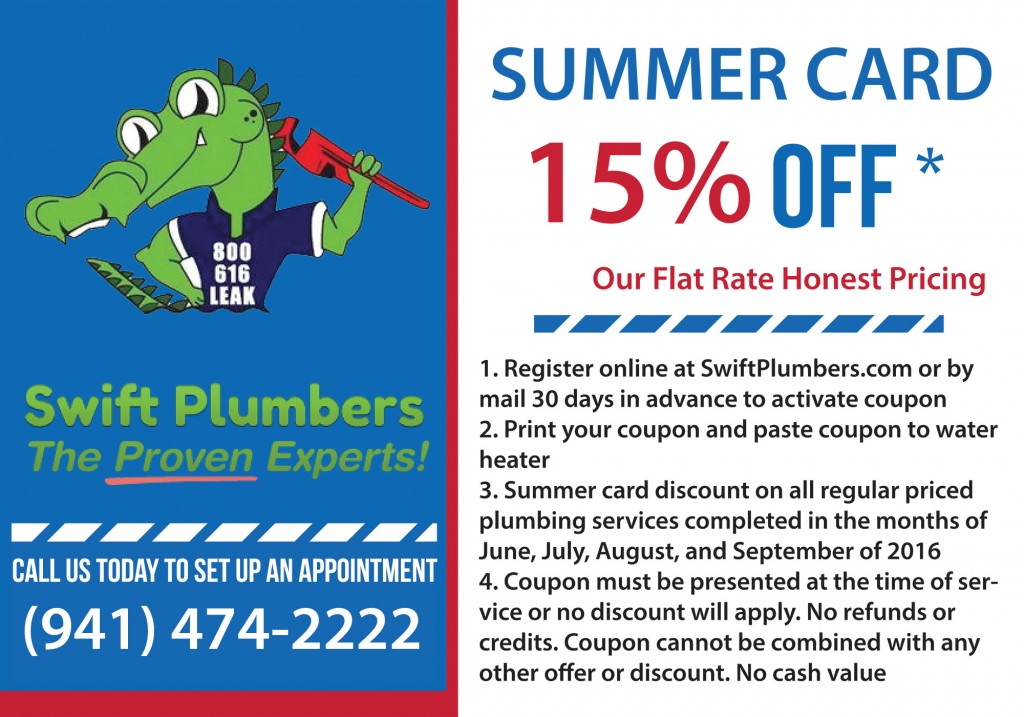 Summer Card Sign Up Form

[contact-form-7 id="464″ title="Summer Card Sign Up Form"]
Terms and Conditions
Swift Plumbers are committed to honest, upfront pricing with excellent workmanship.
The following terms and conditions of work and payment are a contractual agreement between the customer and Swift Plumbers. Prior to any work being performed I the customer have completely read and understand this contract and I have signed in full agreement to all of the terms and conditions in this contract. $124.00 is our minimum charge to send a plumber to a customers property and includes the trip time/cost but does not include all parts,labor and equipment usage. Free Estimates do not require a plumber and are only for major work, minor work is quoted via e-mail or mail. Customer must retain all receipts and present them to Swift Plumbers as a proof of purchase. Manufacture warranties supersede any warranty provided by Swift Plumbers. Labor warranty is limited to a 30 day time frame for adjustments that directly pertain to the specific work that customer was charged and paid for. Any and all additional work that is recommended and directly pertains to what customer originally paid for shall be completed and paid for before warranty will take effect. No warranty applies to any connections or fittings to existing plumbing including the fittings that connect to existing pipe. All warranty work is to be completed by Swift Plumbers. Manufacturer's warranty will cover installed parts and fixtures and labor will be charged. Labor warranty is limited to workmanship error at Swift Plumbers' sole discretion Customer should make no assumptions that work is covered under warranty as additional work at additional cost may be needed. Swift Plumbers minimum charge is $124.00 plus any additional labor charges if Swift Plumbers determines at its sole discretion that work is not covered under warranty. Upon completion of any and all work that is performed, customer agrees to have the plumber demonstrate and test the completed work to the customers full satisfaction before plumber leaves. Customer will further inspect the condition of property and agrees no property damage has occurred. All property damage that occurs while performing work on customers plumbing is solely the responsibility of the customer and not Swift Plumbers. Customer agrees that additional recommendations and further work needed are not cause to withhold payment. Customers payment is due at the time of service. All prices are at a discounted rate based on immediate payment. Cleared funds for the specific line items paid for will automatically convert this work order/proposal into a customer receipt but only for the line items that were paid for. All line items not paid for are recommendations or alternative solutions that should be considered. Customer agrees regardless of the type of payment method they choose that funds are available for immediate deposit. Customer agrees that if funds are not available, taken back, or stopped for any reason including non sufficient funds, stop payment, disputing the credit card charge, over credit limit etc. That the customer will be responsible to pay $35.00 for bank/returned check fee, full price for service before discounts and all collection and legal fees. Swift Plumbers will immediately turn uncollected charges to collection agency. Customer agrees to waive all liability, claims and disputes if unavailable to sign upon completion. Customer further agrees once they have paid any invoice with this contract that these terms and conditions are also agreed to be followed for any and all future work with no signature needed. Furnishing of payment is confirmation of full satisfaction of completed work. All sales are final and no refunds or discounts will be extended off work order, proposal or invoice. Please note due to the fact many services are done as emergency, after hours and jurisdictions vary on permit fees and necessity, customer agrees to take responsibility and liability for any permits needed. It is Swift Plumbers policy to install to Florida plumbing code. Customer agrees to send payment to Swift Plumbers for permit fees so we may schedule an inspection. All work orders, estimates and proposals are approximate and may require additional work and additional charges to complete. Customer further agrees that this contract between customer and Swift Plumbers shall supersede any and all previous contracts, statements and verbal agreements. Recording devices and video may be used for promotion/quality control. Aaron Swift, Inc. dba Swift Plumbers License #CFC1426792/ ABCplumbers.com dba Swift Plumbers CFC1427775 individually owned and operated.
Absentee Owner
To protect the property owner it is the policy of Swift Plumbers to have this form completed and signed in advance to scheduling and dispatching a technician to your property, if you are not available. The technician will need a number you can be reached at immediately after assessing what initial charge is needed as an initial attempt to solve the plumbing issue. Please note that our minimum charge is $124. Our minimum charge or the charge quoted to you after initial assessment will be charged prior to work being performed. Additional work and charges will be charged after informing you of additional work needed. You will need to accept or decline the amount quoted for you by email or text. By signning this you agree to our company's terms and conditions listed on this sheet, the invoice and the website. You further agree to be available by telephone or email so our plumber can inform you of any additional work and charges that are needed in order to complete the job correctly and/or arise while working. You agree to pay for additional items when informed.
Video and/or pictures are available upon request and should be requested before the Plumber leaves the job.
Thank you for your business!